flowprofiler® learning and development
training | facilitation | coaching | certification
Inspire. Engage. Develop.
Develop your awesome through our flowprofiler® training, coaching, facilitation and certification solutions.
Learning and development is key to any successful organisation. The flowprofiler® portfolio supports organisations to embed assessments and reports into existing strategic objectives.
Learn to:
Feedback reports

Host 1:1 effective professional development conversations

Run insightful team sessions and,

Recruit the right people into your organisation based on behavioural job-fit.
The interpreter training series
The flowprofiler® Interpreter Series teaches learners how to use, embed and make the most out this family of assessments within their business.
The flowprofiler® Interpreter Series is designed for practitioners of the flowprofiler® family of assessments and workshops. Start with Level 1 | Giving Feedback. Choose your Level 2 module based on your requirements. Advance to Level 3 | Super Interpreter.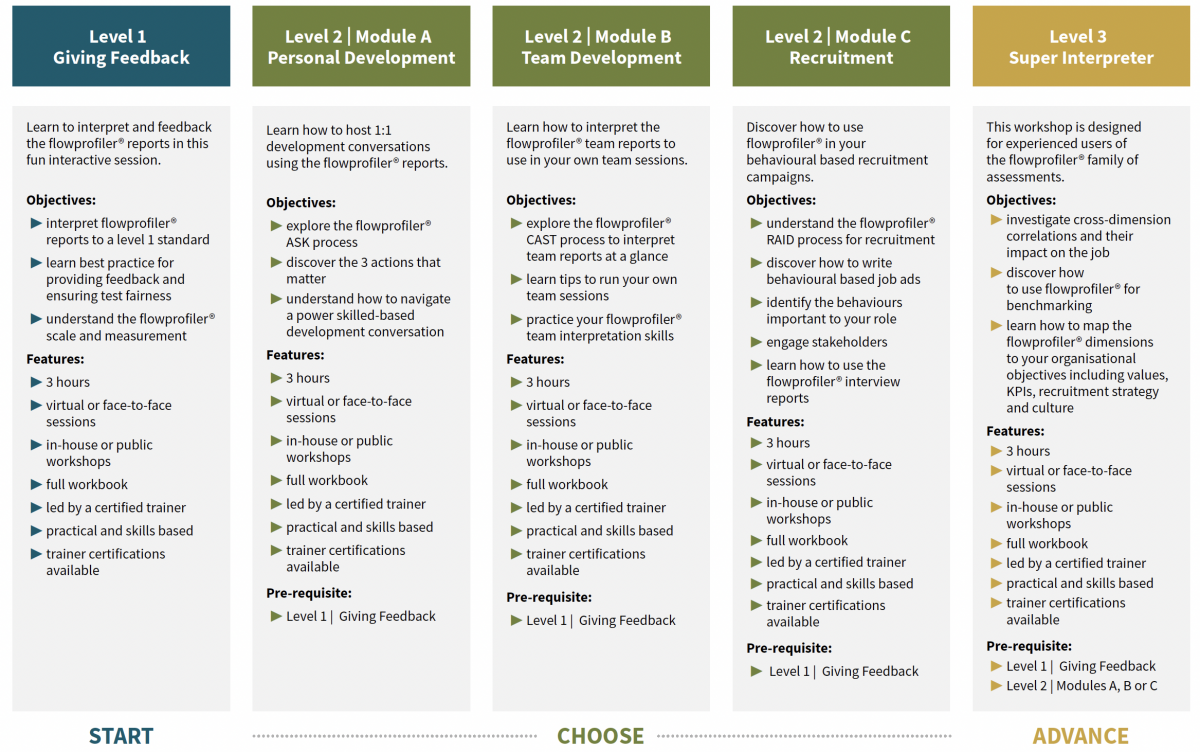 The flowprofiler® power skills series
The flowprofiler® power skills series is a portfolio of learning interventions for learners looking to develop, activate and
manage the use of the their power skills in the workplace. Choose what works for your people and your organisation.

The flowprofiler® power skills series is designed to offer clients and learners maximum flexibility when deciding on their learning and development solutions.
Choose from:
The flowprofiler® Dimension Labs:


1

h

our overview sessions. Virtual. Trainer led. Dimension specific. Full of tips and techniques.
The flowprofiler® Power Skills Modules:
2-3 hour learning modules. 1 dimension per module. Full workbook. Trainer led. 18 dimensions to choose from.
Build your own training workshops.
Facilitated Team Sessions:
Team reports. Trained facilitator. Face-to-face or virtual delivery. 90min, 1/2 day or full day sessions.
Your people, your objectives.
Coaching with flowprofiler®:
Engage a flowprofiler® coach for 1:1 executive coaching based on your goals and your flowprofiler® development report.
The flowprofiler® Advantage workshops:
Factor specific. 1/2 or 1 day options. Full workbook. Trainer led.
Bring theory and individual results together for deeper understanding.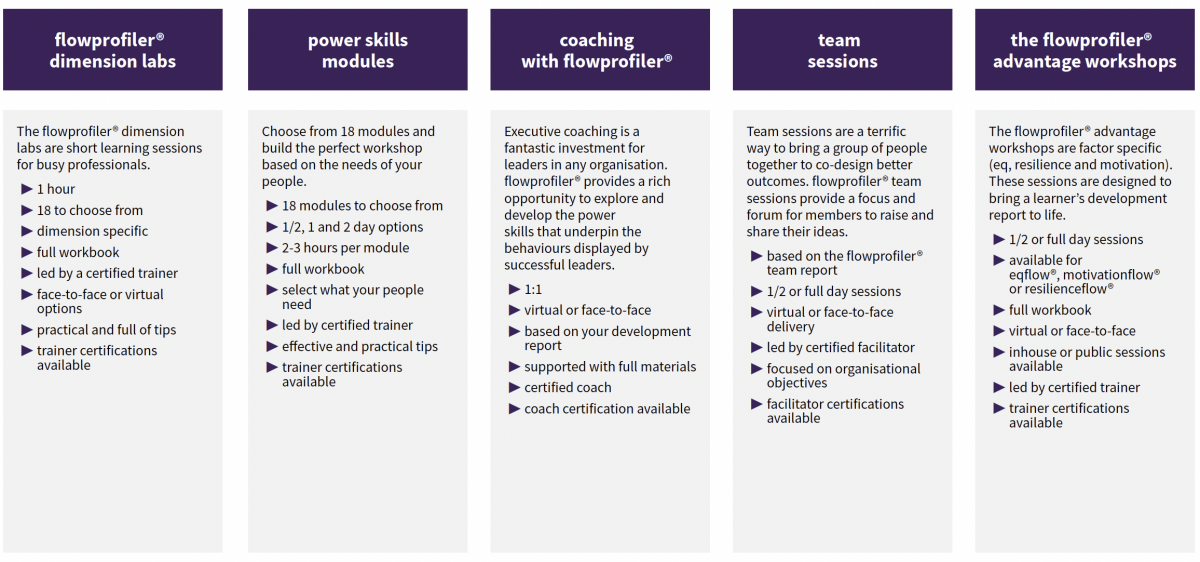 flowprofiler® dimension labs
The dimension labs are short, and impactful sessions where you are able to choose your next steps from a wide range of possibilities.
The flowprofiler® power skills series has 18 dimension labs available. Led by a certified flowprofiler® facilitator, each dimension lab is a 1 hour virtual session, supported with a full workbook and focuses on a specific power skill.
Learning and development is beginning to look a whole lot different: outcome focused, adaptable and flexible to the needs of today's professional.
Why?
The flowprofiler® dimension labs offer short 1 hour sessions.
Great for working lunches

Delivered virtually

18 to choose from
Benefits
Flexible trainer led learning sessions.
Dimension specific

Provides a great overview
Short and impactful sessions
Get Started
Book your 1 hour virtual session today.
Choose your dimension lab

Book a time with a flowprofiler® trainer

Receive your full workbook and attend the session
flowprofiler® power skills modules
The flowprofiler® power skills modules are designed to provide you with full flexibility when assessing the development needs of your people. Each module is 2-3hours in length and can be delivered in any combination. There are 18 to choose from and our certified trainers will deliver your workshop face-to-face- or virtually. Full of practice, work based exercises and effective techniques to help your people develop their power skills.
Why?
The power skills modules provide clients with full flexibility to focus on the specific development needs of their people.
2-3 hours sessions

Dimension specific

True skills transfer training

Develop the behaviours your people need to succeed
Benefits
Design your own learning and development sessions by combining flowprofiler® power skills modules.
You choose: 18 modules

Measureable: assessments act as a diagnostic tool

Skills transfer training using the adult discovery learning model
Get Started
Start designing your workshop today.
Decide on the bahvioural needs of the role

 Use the  flowprofiler® assessments to measure the needs of your people

Decide which combination of modules best fit the objectives of your business
Team facilitation with flowprofiler®
Engage a flowprofiler® facilitator to work with your team. Your facilitator will work with you to create a bespoke session based on your objectives. We can facilitate any team size whether that be 3 or 300 people. These sessions offer flexible and adaptable learning and development.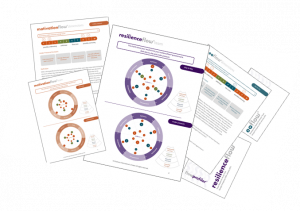 Why?
Facilitation guides teams to achieve their objectives.
Build collaboration and communication

Nurture team resilience

Engage and motivate team members

Develop emotional and social intelligence
Benefits
Keep the team on track, keep relationships intact and drive successful outcomes.
Improve decision making

Build self-esteem

Pursue employee well-being

Nurture high functioning teams
Get Started
Book a call and we will design your session based on your objectives.
Our facilitators focus on getting to a realistic outcome

Book team benchmarking, development and facilitated sessions

Use flowprofiler® team reports to guide the sessions
Coaching with flowprofiler®
Business coaching is an important part of organisational development. Also known as executive coaching, coaching brings support for individuals working within a company's unique mix of culture, values, industry and management style. A learning and development portfolio would not be complete without the coaching with flowprofiler® series.
Our business coaching network uses the flowprofiler® family of assessments for insight into emotional/social intelligence, resilience and motivation. Our coaches can help individuals to develop their personal excellence with sessions tailored exclusively to them.​
Why?
Coaching looks ahead – what are you trying to achieve? Who is involved? Where does your motivation come from?
Find out what motivates you and how to leverage it

Create space for you to step back, takestock, and move forward

Look to the future to decide what are you trying to achieve
Benefits
Reignite your career. Coaching will position yourself on the path to success.
Improve productivity and performance

Get on the path to success

Have renewed purpose and direction in your career

Deal with challenges more confidently
Get Started
It's easy to get started with a coach. The first step is to meet to make sure your coach is right for you.
We will help you find the right coach

Consult with your chosen coach

Use your flowprofiler® development report in your sessions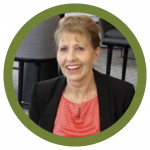 ❝resilienceflow® was a great way of checking in with ourselves as individuals and checking how we were doing as a team. resilienceflow® gave us insights and language for our day-to-day and under pressure thinking and performance.❞