Empowering your workforce through data-driven training
Are you tired of investing in training programmes that don't yield the desired results? Do you want to improve the effectiveness and efficiency of your training initiatives? Look no further than flowprofiler®'s data driven development design.
At flowprofiler®, we specialise in helping organisations harness the power of data to design and implement training programmes that deliver tangible results. Our approach is rooted in the latest research and best practices, and is customisable to meet the unique needs of your business.
By leveraging data analytics and psychometric assessments, we can identify the specific skill gaps and development needs of your employees, and design targeted training programmes that address them. This not only increases the effectiveness of your training initiatives, but also maximses your training ROI by ensuring that you are investing in the areas that will have the greatest impact on your business.
Our data-driven approach has been proven time and time again, with numerous clients reporting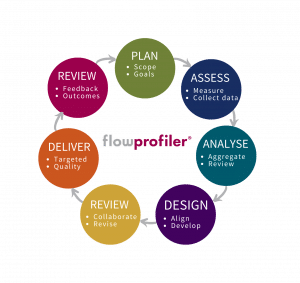 increased efficiency, improved collaboration and teamwork, and even greater innovation as a result of our training programmes. And with our ongoing support and consultation, you can be confident that your training initiatives will continue to evolve and improve over time.
Data-driven training development design can have significant short, mid, and long-term benefits for organisations, including increased efficiencies, improved teamwork and collaboration, increased innovation, and ultimately impacting the bottom line. The use of the flowprofiler® psychometric assessment tool is a powerful way to identify development opportunities and create targeted training programmes.
f

lowprofiler® provides

deep actionable insights

into an individual's behavioural strengths and potential areas for development in a work context.

It focuses specifically on an individual's behaviour in the workplace, particularly in the areas of

emotional and social intelligence, resilience, and motivation.

flowprofiler® helps individuals

identify their adaptive behavioural strategies

and areas for improvement, leading to

increased productivity, job satisfaction, and personal growth.

flowprofiler® is

based on the concept of flow

, which helps individuals understand their preferred work environments and how they can

achieve a state of flow

in their daily work.

It is easy to use and provides clear and concise reports that can be easily understood by individuals and organisations.

flowprofiler® is a practical tool for managers, HR professionals, coaches, and individuals seeking to better understand their natural strengths and potential areas for development in a work context.
If you're looking to improve your organisation's training outcomes, consider the benefits of data-driven development design and how it can positively impact your team's performance. Take action now by contacting us to learn more about how our expert team can help you design data-driven training programmes using the flowprofiler® assessment tool. Invest in your team's professional development today and watch your organisation thrive.
Invest in the power of data-driven training development and unlock the full potential of your organisation. Contact us today to learn more.
hello@flowprofiler.com